Rheem Air Conditioner Prices: Costs, Pros, Cons, and More
Complete Guide to Rheem Air Conditioner Prices | Wholesale System Cost, Installation Cost, Pros, Cons, Estimates, and Other
Do you like this article?
Quality Services
Where do you need services?
Rheem doesn't always get the attention it deserves in the world of air conditioners, sometimes overshadowed by bigger brand names. Having said that, Rheem's air conditioners have a reputation for reliability and some extensive warranties to back it. It offers a versatile selection of systems and Rheem air conditioner prices are generally lower than most of the household names.
You won't be able to find prices for Rheem air conditioner that easily online. Rheem air conditioners are sold--through wholesale dealers or direct to the contractor-- so you pay a price that combines the installation cost and the contractor's system price. This can make it challenging to pinpoint Rheem air conditioner prices because so many factors can swing the price. This is among the reasons consumer watchdog groups recommend that you get multiple estimates before buying a new air conditioner.
The following Rheem air conditioner prices are recent estimates and may not reflect your cost, which will be primarily determined by your needs and your location. If you'd like Rheem air conditioner prices that are more specific to what you need, get up to four free estimates from reputable contractors in your area.
RHEEM AIR CONDITIONER PRICES
Rheem Prestige Series
2-Stage Serial Communicating Rheem Air Conditioner Prices; Models RASL/RARL-JEC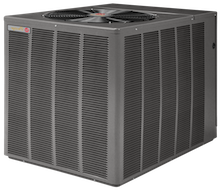 Rheem Prestige Series
Key aspects:
Up to 19.5 SEER
Comfort Control² System detects system errors with 32 on-board diagnostics
Serial communication, when hooked to a serial communicating air handler, allows for greater auto-configuration and additional diagnostics
Two-stage scroll compressor for increased efficiency and reduced humidity
10-year conditional warranty for system replacement
10-year warranty on parts
Cost including installation:
Contractors' wholesale purchase cost:
2-ton: About $1,800
3-ton: About $2,100
2-Stage Rheem Air Conditioner Prices; Model RARL-JEZ
Key aspects:
Up to 18.5 SEER
Comfort Control System detects system errors, although less extensively and specifically than the Comfort Control² System in Rheem's serial communicating system
Two-stage scroll compressor for increased efficiency and reduced humidity
10-year conditional warranty for system replacement
10-year warranty on parts
Cost including installation:
Contractors' wholesale purchase cost:
2-ton: About $1,600
3-ton: About $1,900
4-ton: About $2,100
5-ton: About $2,500
Single-Stage Rheem Air Conditioner Prices; Models RANL/RAPM-JEZ
Key aspects:
Up to 16 SEER
Low 33-inch profile helps keep the system out of sight
Comfort Control System detects system errors, although less extensively and specifically than the Comfort Control² System in Rheem's serial communicating system
Single-stage cooling (less effectively reduces humidity than multiple stages)
5-year conditional warranty for system replacement
10-year warranty on parts
Cost including installation:
Contractors' wholesale purchase cost:
2.5-ton: About $1,400
3-ton ton: About $1,600
4-ton: About: $1,825
Rheem Classic Series
Single-Stage Rheem Air Conditioner Prices; Models RANL/RAPM-JAZ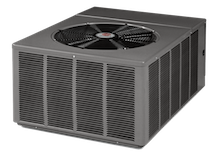 Rheem Classic Series
Key aspects:
Up to 16 SEER
Low 33-inch profile helps keep the system out of sight
Single-stage scroll compressor (less effectively reduces humidity than multiple stages)
10-year warranty on the compressor
5-year warranty on parts
Cost including installation:
Contractors' wholesale purchase cost:
2-ton: About $1,600
3-ton: About $1,900
4-ton: About $2,000
5-ton: About $2,500
Rheem Value Series
Single-Stage Rheem Air Conditioner Prices; Models 14AJM/13AJN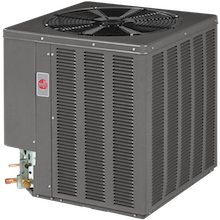 Rheem Value Series
Key aspects:
Up to 17 SEER
Single-stage scroll compressor(less effectively reduces humidity than multiple stages)
10-year conditional warranty on the compressor and parts
Cost including installation:
Contractors' wholesale purchase cost:
3-ton: About $1,400
4-ton: About $1,800
5-ton: About $2,400