Bryant Heat Pump Prices: Info and Free Cost Estimates
Considering Bryant? Here's a run-down of Bryant heat pump prices, including expected installation cost, for the company's current line.
Do you like this article?
Quality Services
Where do you need services?
Bryant heat pumps stand among the elite class of HVAC systems, joining top tier brands like Trane, Lennox, and Carrier. In many ways, Bryant is a Carrier under a different name. Since Carrier acquired the Bryant brand in 1999, systems from the two brands have been extremely similar in quality and price.
Bryant heat pump prices, like other HVAC brands, aren't listed by the manufacturer because costs can change significantly depending on a variety of factors, including location, sizing, and more. Bryant heat pump prices are a package deal that includes installation (in other words, the price you pay for the contractor). Contractors buy the systems wholesale and install them for a price agreed upon between the contractor and homeowner. If you're interested in Bryant heat pump prices specific to your area, QualitySmith can connect you with the four contractors in your area with the qualifications necessary to install Bryant products in your home.
So how do you know what you should pay for a Bryant heat pump if Bryant won't tell you? Experts agree the best method is to seek estimates from contractors in your area. But you can get started with a rough idea of prices with the following ranges for Bryant heat pump prices from the company's line.
BRYANT HEAT PUMP PRICES
*Note that SEER (Seasonal Energy Efficiency Ratio) and HSPF (Heating Seasonal Performance Factor) are the primary factors that determine how well the system converts energy into heating and cooling. Think of it like a car's mile per gallon.
Evolution line: Ultra Efficiency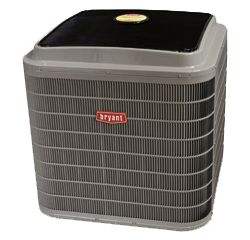 Evolution Series
Bryant Evolution Line Models: 289B, 286B, 285B
About: Bryant's Evolution line boasts a 19 SEER for cooling and heating, as well as a maximum 9.25 HSPF. What does that mean? It means it's about as efficient as you can get. Consumer Digest awarded the Evolution its coveted Best Buy recommendation.
Cost including installation:

$5,000 to $20,000

Unit cost at contractors' wholesale price:

2-ton: About $3,000

3-ton: About $3,300

4-ton: About $3,600

4-ton including air handler: About $6,500
Preferred line: High Efficiency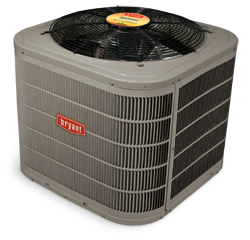 Preferred Series
Bryant Preferred line models: 226A, 225B, 223A
About: The Preferred line offers high efficiency at a competitive price. This line of systems carries a maximize 16.5 SEER and up to 9.5 HSPF.
Cost including installation:

$4,000 to $17,000

Unit cost at contractors' wholesale price:

3-ton: About $1,750

4-ton: About $2,000

5-ton: About $2,500
Legacy line: Moderate Efficiency
Bryant Legacy line models: 215B, 213B
About: The Legacy line is a low cost heat pump solution that's best used for heating and cooling in moderate climates. When the temperature falls near freezing, the systems rely largely on expensive back-up electric heat.
Cost including installation:

$2,500 to $12,000
OTHER CONSIDERATIONS
Generally, Bryant heat pump prices are slightly higher than most other brands for a couple reasons: the equipment is considered high quality and Bryant is typically more stringent about which contractors it allows to install its systems than other brands. Lower-end brands like Goodman usually have a wider range of contractors allowed to sell their products. Some industry experts say that the standards by which Bryant selects its contractors gives way to a higher likelihood of a quality installation.
If you're not sure which brand is right for you, you can also check out our broader guide to heat pump prices.
WHAT CHARACTERISTICS MAKE BRYANT HEAT PUMP PRICES JUSTIFIABLE?
Some industry experts suggest Bryant is more reliable than most other options, and therefore is less prone to breaking down or losing efficiency over time. Other industry experts say there is little to Bryant that's markedly better than it's competitors. The price difference may be more closely related to the quality of contractor as well as longer manufacturer warranties. Generally, Bryant heat pump heating and cooling systems feature five-year warranties for most parts and ten-year warranties for key parts. High-end models may have longer warranties. Service warranties, which range anywhere from a year to a lifetime, are offered by the contractor and are separate from manufacturer warranties.


About the Author Rachel Wright
Rachel Wright is an SEO content editor at Reply! with more than 10 years of editing experience. She enjoys interior design and gardening. To share home improvement ideas, find her on Google+.