Carrier Heat Pump Prices: Compare Products and Quotes
Interested in a Carrier system? The following is an overview of expected Carrier heat pump prices, including install costs
Do you like this article?
Quality Services
Where do you need services?
Named after the inventor of air conditioning, Willis Carrier, Carrier was the first manufacturer to successfully sell air conditioning to the residential market in the 1950s.
The Carrier Air Conditioning company holds a unique pedigree. The company's founder invented modern air conditioning in 1902. His invention changed how people live. Today, we are able to be more comfortable in much hotter climates than ever before. In fact, entire regions, like Florida and the Southwest Deserts, would likely have a very different look had Willis Carrier not invented his new machine.
Today, Carrier is synonymous with high quality and, with that, a high price. As an industry leader, Carrier heat pumps prices are generally high compared to most of the company's competitors, but they're also considered extremely reliable. Like the old saying goes, you pay for what you get.
You won't find Carrier heat pump prices on the company's website. Carrier, like many other manufacturers, doesn't list costs. It sells its systems wholesale to contractors at varying rates. The price you pay is a package deal that includes the cost of the system as well as installation price.
Experts recommend getting multiple estimates from local contractors to pin down Carrier heat pump prices in your area.
The following will provide a rough idea of your expected Carrier heat pump price, but note that these vary widely depending on your home's location, layout, size, and more.
For more specific pricing, click here for four free estimates from professional contractors in your area.
SEER and HSPF refer to industry standard efficiency ratings and determine how well the heat pump will convert your energy dollars into heating and cooling.
The following Carrier heat pump prices include the cost of installation:
CARRIER HEAT PUMP PRICES
Infinity Series: Ultra Efficiency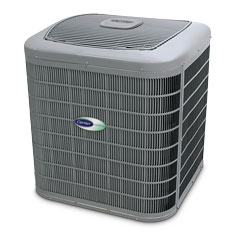 Infinity Series
About: Carrier's Infinity series is the industry leader in efficiency. With a maximum SEER of 20.5 and HSPF of 13, which few other heat pumps can claim, the Infinity is the ultimate efficient luxury in heat pumps.
Cost including installation:

$7,000 to $25,000

Contractor's wholesale purchase cost:

3-ton: About $3,000 to $3,500

3-ton with air handler and heat strips: About $8,000

4-ton: About $3,500 to $4,000

4-ton with air handler and heat strips: About $8,500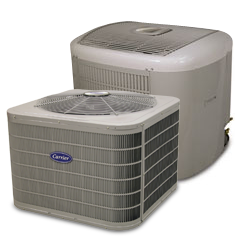 Performance and Comfort Series
5-ton: About $4,000 to $4,500
Performance and Comfort Series: High Efficiency
About: Carrier's Performance and Comfort Series mark the company's high-end, competitively priced line of heat pumps. The systems offer a 16.5 SEER and 9.5 HSPF, and during extremely cold months, reverse to electric heat. The Performance line tends to cost about $1,000 more than the Comfort line, but has a reputation for running significantly quieter.
Cost including installation:

Performance: $6,000 to $20,000

Comfort: $4,000 to $19,000
Base Series: Moderate Efficiency
About: Carrier's Base Series is its low-end line, which is still considered a step above competitors' low-end line. With a SEER rating up to 16 and HSPF up to 9, the Base Series can match that of Carrier's competitors' high efficiency lines.
Cost including installation:

$2,500 to $12,000
Carrier heat pumps can be found at most major retailers. The key to getting a great price will be comparison shopping. By comparing prices, and looking for annual sales, you can probably save a great deal of money. Also, look to buy your heat pump during the spring, when heat is the last thing on most people's minds.
If you're not sure which brand is right for you, you can also check out our broader guide to heat pump prices.


About the Author Rachel Wright
Rachel Wright is an SEO content editor at Reply! with more than 10 years of editing experience. She enjoys interior design and gardening. To share home improvement ideas, find her on Google+.