Geothermal Heat Pump Cost: The Pros, The Cons, The Tax Breaks
Are you ready to take the plunge for geothermal heat pumps? Read on about the advantages and disadvantages for your home and wallet.
Do you like this article?
Quality Services
Where do you need services?
Despite rising popularity, sticker shock is still a frequent reaction upon seeing the cost of geothermal installation. Geothermal heat pumps are usually somewhere between $11,000 and $30,000. Most of that stems from the installation cost.
What do geothermal heating systems cost?
Prices can range wildly. Contractors and homeowners in different areas with different needs have reported vastly different prices. Some homeowners have reported the cost of geothermal installation ran them about $7,000 for a 2,000 square foot home. Others have said the price toppled $30,000 for the same size home.
A family quoted in a story by National Public Radio reported that they spent $20,000 for installation in a 1,900 square foot home, but were only capable of keeping it that low because they rented their own backhoe and dug a trench. But the price was worth it, they said, because it dropped their energy bills from $600 with an oil furnace to $100 per month with geothermal heat.
What affects your costs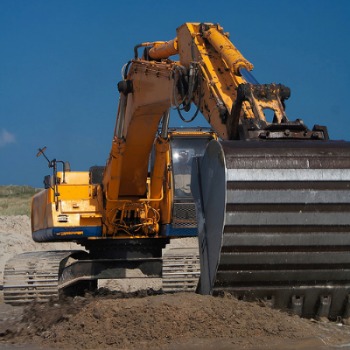 Geothermal heating costs are usually determined by ton of capacity. Heating capacity is the amount of energy used to heat one gram of water 1°C. This may seem like an abstract concept; however it provides a standard to which you can compare your needs to available systems. An average home needs 3 tons of heating capacity, and the average cost of a geothermal system is at least $2,500 per ton of capacity.
Generally, for each ton of capacity, air source heat pumps are about $3,000 less to install than geothermal heat pumps.
Why is the cost of geothermal installation so steep and subject to such extreme fluctuation? Because, unlike traditional heating and cooling systems, the infrastructure that goes into geothermal heat pumps is far more intensive. Trenches must be dug to lay the piping from your house to an area beneath the surface of the earth.
Additional geothermal heat pump costs can include the installation of specialized geothermal piping, desuperheaters (auxiliary heat exchangers that lessen the need for underground piping), and boring holes for the geothermal system. You may need many adjustments made to the home to outfit it for a geothermal heat pump.
How much it will cost you is a question that can only be answered with an in-home appointment from a contractor. The Better Business Bureau recommends you seek a minimum of three estimates from area professionals to ensure you strike a balance between quality work at a reasonable price. If you'd like to know the cost in your area, click here for three free estimates from licensed contractors.
Many homeowners say it's a price worth paying. Geothermal heat pumps are at least 45 percent more efficient than traditional fuel combustion systems like electric, oil, and gas furnaces. Meanwhile, you can claim a 30 percent tax credit. With that kind of savings, those high initial geothermal heat pump prices often pay for themselves in a few years.
Geothermal heat pumps and tax credit benefits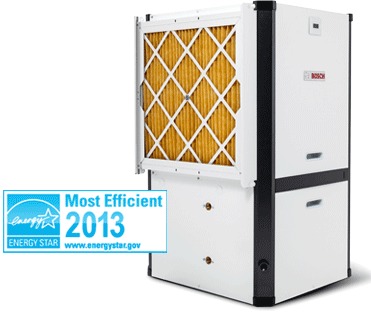 For further cost reduction, tax rebates are available that repay 30 percent of your renovation costs up to $2,000 for newly installed geothermal equipment. Visit Energy Star for more information on the most efficient geothermal units.
Pay attention to the ratings of the unit as these too affect both costs and whether or not it meets Energy Star standards. EER or Energy Efficiency Rating is how efficiently the unit is at cooling or performing as an air conditioner. The max EER available is 30, with the bulk of Energy Star qualified units averaging 16.
The Coefficient of Performance (COP) is the rating for the heating efficiency. The lower the COP, the less efficient the system is at heating. On average, Energy Star approved products have a 3 COP.
Further savings can come from deals with local electric companies. Some electric companies offer special rates to customers with geothermal heating systems, as the reduced usage allows the electric companies to sell more of their electricity to others. Other electric companies pay for geothermal system installation, and the customers pay to lease the system, which is still cheaper than electrical usage.
What are the advantages of geothermal heating?
There are many pros when it comes to upgrading to a geothermal heating system, and they usually outweigh the cons:
Low operating cost – geothermal heat pump cost tends to be lower than conventional heating systems by anywhere from $400 to $1,400 per year. Despite spending more initially, geothermal heating ends up paying back in around five years.
Environmental impact – geothermal heat pumps cost less and they have less of an effect on the environment. Open loop systems reduce emissions by up to 40 percent while making little environmental impact otherwise.
Reliability – geothermal systems can last anywhere from 20 to 50 years. When located away from harsh elements, the heat pumps themselves are known to last for much more than 20 years.
Easy retrofitting – geothermal heat pumps and geothermal systems are easy to integrate with older systems without the hassle of complicated ductwork or replacement of parts.
The disadvantages
A geothermal system's biggest disadvantage is the initial cost. Installation of a heat pump and interior ductwork can nearly be double that of traditional furnace systems.
These cost disadvantages can easily be offset, however, with savings on utility bills and possible rebates from your local electric company. Look into efficiency discounts offered in your region and you may be able to drastically reduce your initial installation and geothermal heating costs.
Geothermal heating systems and spatial considerations
Beside the disadvantages related to the cost of geothermal installation, geothermal systems can also require a large amount of space. A geothermal heat pump is usually installed in the home's interior, which may or may not be an issue depending on the layout of the house. However, the trenches or geothermal boreholes for the piping can require several hundred feet of open space. Wells for geothermal loop systems can also require special considerations.
Finding a contractor with a superior level of experience when it comes to geothermal heat pump installation is crucial when thinking about where to install your unit.
Geothermal heating permits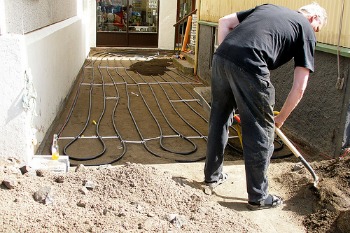 You may also need permits to dig trenches and wells, so check with your local public utility company before starting any project. There are a variety of geothermal heating systems though, so choosing the right system will reduce these disadvantages. Before making a decision consider the many advantages of geothermal heating and speak with contractors.
Receive 3 free geothermal installation cost estimates
QualitySmith's simple and free service will provide you with geothermal heat pump cost estimates from your area's top-rated central air conditioning contractors.
If you're interested in geothermal heating cost estimates, simply fill out the form on the page, or follow the link at the bottom of the article. As soon as you do, you'll receive free geothermal heating pump prices from 3 top-rated HVAC contractors in your area. Take comfort in knowing that our network of geothermal specialists is very selective: We verify their insurance and state license, do an intense company background check, and call all of their customer references. You have nothing to lose, and a lot to gain.
Related resources
Photo credit: 1. valigursky via iStockphoto, 2. Terinea CC, 3. Bosch, 4. Reinis Traidas CC, 5. quinet CC.


About the Author Rachel Wright

Rachel Wright is an SEO content editor at Reply! with more than 10 years of editing experience. She enjoys interior design and gardening. To share home improvement ideas, find her on Google+.