Vinyl siding installation: a how-to overview
A guide to what tools and materials you'll need, as well as an overview of key tasks to ensure a quality vinyl siding installation.
Do you like this article?
Quality Services
Where do you need services?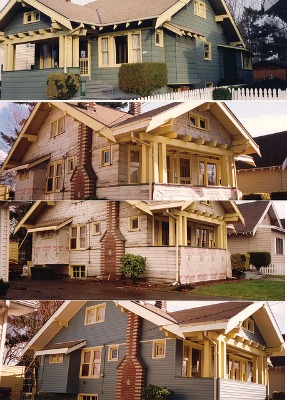 Vinyl has grown into the most popular siding material, decorating 32 percent of homes in the United States. It's popularity comes courtesy of low cost and minimal maintenance that requires little more than an infrequent wash with a cloth and hose. It's also versatile, offered in styles that emulate — at least from a distance — the appearance of wood shingles, fish scales, vertical wood panels and more.
If you're considering buying vinyl siding for your home, you may consider installing it yourself to cut costs by half. However, proper installation that leads to a long life for your siding can be tricky.
Vinyl siding installation
You won't need a much beyond what's typically found in the average toolbox except for patience. Vinyl siding installation is tricky because it's prone to fluctuations in size depending on the weather, meaning you'll need to size the installation with predictions of it's changing shape in warmer or cooler weather. If vinyl siding installation isn't done right, vinyl is vulnerable to mold and mildew that grows behind the panels.
Most vinyl siding typically comes in 12 foot by 6 inch lengths, which can contract in length by a half an inch in bitter cold compared to extreme heat. In other words, if you're installing the dead of winter, prepare for up to a half inch expansion in length in the winter.
Likewise, if you're installing in the winter, prepare for a half inch contraction in length in the summer. And if you're installing in moderate temperatures, prepare for a contraction and expansion of a quarter-inch. Trim pieces can help hide the appearance of gaps. To create smaller lengths of siding, cut it with metal scissors, a knife, or a circular saw.
Vinyl siding slides into place. To outfit your home with the necessary rails that you'll slide the vinyl onto, you'll probably need the following (some items will be included with your vinyl siding):
Window and door trim channel.
J-channel.
Utility channel.
Corner models.
Metal starter strips.
Soffits.
Fascia covers.
Other tools you'll need include:
Hammer.
Nail hole punch.
Unlocking tool.
Snaplock punch.
Rules to live by
Because of the variations in installation for different brands, you'll want to consult your manual to the proper method for your vinyl siding installation. There are a number of key considerations, however, to keep in mind when installing vinyl siding to ensure it'll live a long life.
Rule #1: Keep it loose
Vinyl siding's natural inclination to expand means it's important to leave room for the panels to slide. When nailing, never set the nail all way to the head — leave about a sixteenth of an inch. If you can't slide the siding back and forth, you've gone too far.
Rule #2: Space it
You'll want at least a quarter-inch of space between the ends of panels, specifically, where they connect with J-channels, corner posts, or eaves. This depends on the weather: if you're working in temperatures at or below freezing, you'll want to leave three-eighths of an inch to a half-inch of space.
Rule #3: Center it
Always nail the panel in the middle of the slot attached to the siding. This will allow it to slide to the left and right.
Rule #4: Punch it
If you're working with a shortened piece of vinyl that has no slot, don't nail through the panel. Either use trim or create a new slot with a hole punch.
Rule #5: Keep it loose part two
Don't pull the panels up tight when locking them during vinyl siding installation. They should hang with some give.
Get your vinyl on
How you perform certain tasks varies because installation changes depending on brand. Follow the manufacturer's instructions included with your vinyl siding. However, the general installation is roughly the same.
Here's a bare bones rundown of what's required for vinyl siding installation. Steps are listed in order:
Remove or tie back brush, trees, lights, fixtures, and any obstacle that could block installation, and clean old caulk and residue from the walls.
Even out the walls by setting shims in sunken areas and nailing furring strips (wood or metal strips).
Nail starter strips near the bottom of the house, leaving at least a quarter-inch of space between ends.
Install corner posts, leaving at least a quarter-inch of space between the eaves.
Install J-channels.
Nail trim along windows and eaves.
Install vinyl siding sliding panels.
Overlap panels, allowing them to hang loose.
Photo credit: dawniecakes via Compfight CC.