Vinyl Siding Prices: Pros, Cons and Quotes
Your guide to vinyl siding prices and whether or not other material is an option for you. Learn how to find the right siding professional for your home.
Do you like this article?
Quality Services
Where do you need services?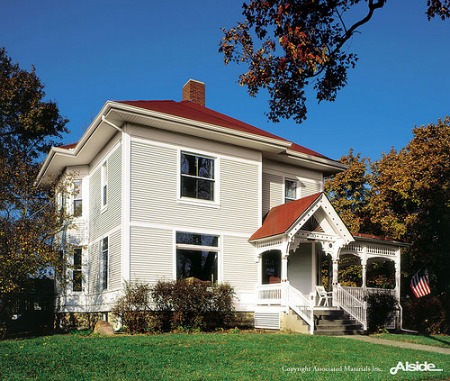 The siding on your home provides protection, insulation, value and visual appeal. Driving past a stunning home wouldn't be the same if the exterior was weathered and worn. Vinyl siding prices have dropped as its popularity has risen, so if it's time for you to change up your home's exterior, now is the best time to move on up to beautiful vinyl siding.
When the exterior of your home faces the inevitable signs of aging, installing new siding on your house should be your opportunity to improve not just another overwhelming expense.
To get more information about siding price estimates, connect with qualified contractors in your area today.
Siding with the right choice
There are many ways you can side your house, so it's important to do your research. The age of your home, the condition of your current siding, the cost of labor, and especially the material of choice will affect the price of your siding.
Wood siding provides the robustly classic look of old-fashioned homes to the neighborhood. It is environmentally friendly and long lasting, but being natural brings some unsightly downsides. Wood siding is more easily affected by the weather and can fall prey to rotting and molding, on top of being relatively expensive.
Stone siding is nearly insusceptible to weather, but is even more expensive than wood. The natural beauty of stone pays off if you have the money to invest.
Metal siding is strong, fireproof and dependably weather resistant. It is not environmentally harmful, and takes little maintenance, but isn't the best choice for insulation. If you live in a colder area, metal siding may not be the most efficient choice.
Vinyl siding is currently the most popular type of siding available for homes today. Vinyl siding prices are low, maintenance needs are few, and there are numerous styles available. When it comes to most modern homes today, vinyl siding is the best choice out there.
The two sides of vinyl
Though vinyl siding is most likely the best choice for most modern homes today, like anything, there are a few drawbacks. These drawbacks shouldn't prevent you from investing in vinyl siding, but should be remembered when considering maintenance and installation.
Maintenance. Vinyl requires little maintenance relatively to other types of siding, but it still requires some maintenance. Remember to wash your vinyl siding at least one to two times per year to keep your home looking fresh. You won't have to repaint, but a good cleaning will protect your investment.
Historical quality. You may be able to buy vinyl siding that looks like wood, but that doesn't make it wooden. If you live in a much older home, vinyl siding may impact the historical value of your home despite imitative attempts to maintain the current look. Investing in a much higher quality vinyl is the safest bet in this case.
Durability. Very extreme weather conditions or external factors may lead to siding damage. Vinyl may be susceptible to extreme heat damage, but this can be easily avoided by keeping any external heat sources (a barbecue, for instance) away from the home.
Despite these drawbacks, vinyl is still an excellent choice, considering the other side of vinyl:
Durability. Unlike other siding options, vinyl won't mold, crack or buckle. Very extreme conditions may affect home siding, but knowledge of regional home exterior needs will help you decide on the necessary type of vinyl panel.
Maintenance. A little bit of cleaning is usually the most vinyl siding will need. Even after decades, good vinyl siding shouldn't need to be repainted.
Energy conservation. Insulated vinyl paneling offers some of the highest levels of insulation for home siding. The more insulated your home, the lower your heating and cooling bills will be from month to month.
Curb appeal. Vinyl comes in a wide variety of colors and styles. You can even find vinyl fashioned with the appearance of wood, for all the look of wood siding without the potential drawbacks.
Property values. Re-siding your house can completely change the way your home's exterior looks. As well as garnering some good long looks at your home's new look, upgrading to vinyl will ultimately bring up your property value.
Contractors are on your side
With vinyl siding prices low and the pros outweighing the cons, it's just a matter of finding a reliable contractor to install your beautiful new siding. Finding a contractor and seeking multiple siding price estimates is one of the most important steps of the process. If siding isn't properly installed, the drawbacks could be more prevalent than the advantages. Finding a contractor online is a safe and easy way to filter your choices and be on your way to a beautifully sided home.
Related resources


About the Author Rachel Wright
Rachel Wright is an SEO content editor at Reply! with more than 10 years of editing experience. She enjoys interior design and gardening. To share home improvement ideas, find her on Google+.
Photo credit: Alside via Compfight CC.