Air Conditioner Buyers Guide
Air Conditioner Buyers Guide | Your Complete Resource for Shopping for a New Central Air Conditioner, including Pros, Cons, Features, Sizing, Quality, Shopping, and More
Do you like this article?
Quality Services
Where do you need services?
This air conditioner buyers guide aims to help you navigate the the endless maze of air conditioner brands, options, sizes and ultimately will help you find the right air conditioner for your needs.
This means understanding why certain features of an air conditioner can raise the price and by how much. It also means understanding why you may want those features or why you may want to avoid wasting money on something you won't use.
So without further ado, we'll start this air conditioner buyers guide with an overview of the primary "stats" assigned to air conditioners and what they mean.
AIR CONDITIONER BUYERS GUIDE
SEER:
When it comes to long-term investment, SEER is king. It is the main aspect that determines how much it costs to operate your air conditioner. In other words, SEER dictates how much of your money turns into cool air and how much is wasted.
Unfortunately, SEER isn't based on a simple scale like furnace efficiency, which uses a 1-100 scale that states the percentage of energy wasted. What kind of savings you can expect from various SEER ratings, on the other hand, requires some calculation to figure out.
To calculate your long-term savings comparing two systems with different SEER ratings you'll need:
Your local electricity rate (in dollars per kWh)
The air conditioners' initial cost (including installation)
The SEER ratings of both air conditioners
The cooling capacity of both air conditioners (in tons)
Whether the air conditioners include a programmable thermostat
By inputting this data in Energy Star's efficiency calculator, in Excel format, you can easily compare long-term savings. It also includes calculations based upon various U.S. regions to estimate your expected air conditioner use.
As we continue this air conditioner buyers guide, lets look at some features that cost extra that you may or may not want for the price.
Single-stage vs. Multiple-stage:
The first air conditioners were designed to have just one operation setting: on. The majority of air conditioners still have this one method of operation. In other words, when you turn on most air conditioners, they operate at 100% capacity until reaching a set temperature. When that happens, the systems turn off until cool air is again needed to bring down the indoor temperature matching the setting on the thermostat. This type of operation is known as "single-stage" and is how the majority of air conditioner--and nearly all budget models--operate. However, high-end models offer multiple stage cooling, which allows the system to operate at different outputs, such as 66% or 100% depending on how much cooling is needed. Multiple-stage systems cost more to purchase, but are usually more efficient, have improved temperature balancing, and reduce humidity better than single-stage systems.
Should you spend the extra money for a multiple-stage system? Well, that depends. Have you ever felt like your current or past air conditioners can't sustain the "right" temperature and comfort? If so, you may feel a big improvement with a multiple-stage system.
Programmable Thermostats:
Most air conditioners include a programmable thermostat--allowing you to plan your indoor cooling around your schedule. This can lead to a pretty significant savings: usually about $100 per cooling season and over $1,000 throughout the air conditioners life. Of course, it's only useful if you and the other people living in your house have a routine schedule. Some programmable thermostats offer other diagnostic tools, such as alerting you when the filter needs changing, which can help boost efficiency. A few high-end air conditioners have recently begun to feature the ability to control the temperature via a computer or smartphone when you're away from home.
You can also invest in a smart thermostat like the Nest which can connect with your air conditioner to help program and track usage of all your heating and cooling devices.
Next up in the air conditioner buyers guide are answers to broader questions related to size and quality.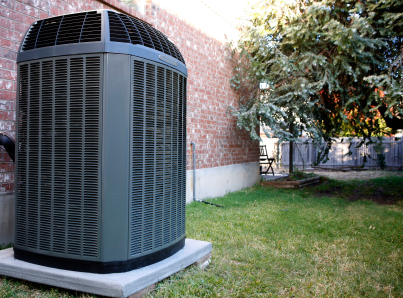 Most air conditioners last about 10 to 20 years. Plan accordingly.
Sizing:
Size, in air conditioning terms, doesn't refer to the physical size of the system. Rather, it's gauged in tons or BTU's per hour (12,000 BTU/hr. is equal to one ton of cooling capacity). Why is this important? Because, the larger the system, the more it costs. And remember earlier when we mentioned how most air conditioners operate at two settings: on and off? If you have an over-sized system, it will constantly be turning on and off, which wastes more energy than a continuously running system, causing you to waste even more money. It will also less effectively remove humidity than an appropriate sized system. Of course, if your air conditioner is too small, you won't be able to cool the whole house properly. In other words, the right size system will lead to more money saved and more comfort.
So, how do you know what the "right" size is? It's complicated. You may think square footage is the main factor, but it's just one of many aspects that play a role. If you rely solely on square footage, you're bound to end up with the wrong size system. Other factors that come into play include the house's insulation, orientation of the house (how it faces the sun--for example, do windows let the sun in? Is there a protective tree lining outside?), number of occupants, number of appliances, even number of lights, and other small factors like weather stripping near doors can change your air conditioning needs.
So back to the question of how you do know what size you need? Well, the truth is, you don't. Quality contractors use industry standard sizing guides that take all these factors into account and then some. The most popular of the bunch is titled "Manual J: Residential Load Calculation," published by the Air Conditioning Contractors of America. Most consumer watchdog groups recommend only hiring a contractor who uses an industry sizing guide such as Manual J. When a contractor comes to your house to provide an initial estimate, you may consider asking them about it. The savings you'll get from a properly sized unit is well worth it.
Quality
If only "quality" were easy to quantify. There are a wide range of brands in the air conditioning world, from the big name brands like Trane and Carrier to the lesser known brands like American Standard and Heil.
For the most part, high-end systems tend to be comparable regardless of brand. If you're considering a 23 SEER system with all the bells and whistles, the parts used for these systems won't vary much--they're nearly all top notch. Likewise, the lower you go down a brand's line, the more reliability and quality tends to drop. However, for some brands like Trane, the drop off isn't as significant as compared to a brand like Goodman, for example.
A good rule of thumb is to look at warranties. If a company only offers a 5-year limited warranty on parts for a given air conditioner, for example, there's probably a reason. Likewise, a lifetime warranty on the compressor, a 10-year warranty on parts, and other warranties suggest a higher quality system.
Finally, our air conditioner buyers guide ends at a suggestion of where to buy an air conditioner to ensure the best value for your money and how to avoid getting ripped off.
Where to Buy:
Consumer watchdog groups such as the Better Business Bureau recommend homeowners get at least three estimates from area contractors before buying a new air conditioner.
There are a number of different ways to get these estimates, some more trustworthy than others.
We recommend using online matchmaking services that connect you with local contractors and perform background screening which includes verifying that contractors hold current licensing and insurance as required by law. With this method you can easily compare estimates, support trustworthy local contractors, and get the best value for your needs with minimal hassle. If you're uncertain which air conditioner is right for you, being able to connect with multiple contractors and compare their advice can be helpful when pinpointing the right air conditioner.
QualitySmith works with hundreds of contractors throughout the United States, from small mom and pop operations that specialize in a single niche to larger companies with a complete fleet of trucks and contractors. Fill out our brief form and up to four top-rated contractors in your area will contact you within a business day. It's the safest and simplest way to easily compare estimates from local contractors and businesses.
You may want to review more specific guides to prices for popular brands, including: