Amana Furnace Prices: Compare Costs and Quotes
Your total guide to Amana furnace prices | Compare prices for the company's complete line of furnaces
Do you like this article?
Quality Services
Where do you need services?
As a subsidiary of Goodman Global, don't expect much difference between Amana furnace prices and the company's Goodman counterparts. For the most part, the systems are middle of the pack, similar in affordability and respectable reliability.
Like most manufacturers, Amana furnace prices aren't listed for the end consumer to see. The furnaces are sold wholesale to contractors, who charge the end consumer for the system as well as the installation in a single package.
These prices match some recent estimates for the wholesale Amana furnace price, as well as the combined unit and installation cost. Costs can fluctuate depending on your needs and location. For more specific pricing for your needs, click here for four free estimates from pre-screened contractors in your area.
AFUE is the key measure in determining your long-term savings. It refers to how much energy is converted into heat and how much is lost. For example, an 80% AFUE will turn 80% of the gas you give it into heat, while 20% is lost.
AMANA FURNACE PRICES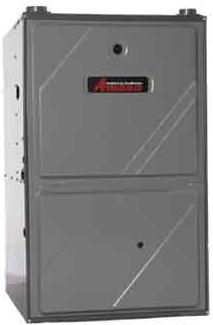 ACVM96/AMVM96/ACVM95/ACVC95
96% AFUE:
AMVM96 Premium | ACVM96 Premium
Cost including installation:

About $5,5000 to $8,000

Unit cost at contractors' wholesale price:

About $1,750 for 60,000 Btu AMVM96 or ACVM96 Premium to $3,200 for 115,000 Btu AMVM96 or ACVM96 Premium
95% AFUE
AMVC95 Premium | ACVC95 Premium | AMH95 Premium | GMV95 Distinctions | GMH95 Distinctions | GCH95 Distinctions
Cost including installation:

About $5,000 to $7,000

Unit cost at contractors' wholesale price:

About: $1,000 for 46,000 Btu Distinctions GCH95 to $2,200 for 115,000 Btu Premium AMVC95
92% AFUE
GKS9 Distinctions
Cost including installation:

About $4,000 to $6,500

Unit cost at contractors' wholesale price:

About $800 for a 46,000 Btu GKS9 Distinctions to $1,100 for a 115,000 Btu GKS9 Distinctions
80% AFUE
AMVC8/ADVC8 Premium | AMH8 Premium | GMVC8 Distinctions | GME8 Distinctions | GMH8/GDH8 Distinctions | GMS8/GDS8 Distinctions | GHS8 Distinctions
Cost including installation:

About $3,000 to $5,500

Unit cost at contractors' wholesale price:

From about $650 for a 45,000 Btu GHS8 Distinctions to $1,300 for a 115,000 Btu AMVC8 or ADVC8 Premium
Related resources:
Click Here for Four Free Amana Furnace Estimates from Quality, Licensed, Insured Contractors in Your Area