Your lawn deserves some TLC from a great lawn mower that will keep it looking pretty and healthy all year-round.
Whether it's just a patch of grass or a sprawling acre of manicured lawn, you either hire help or do it yourself. If you like the cost-effectiveness of the latter, a good lawn mower is your best friend.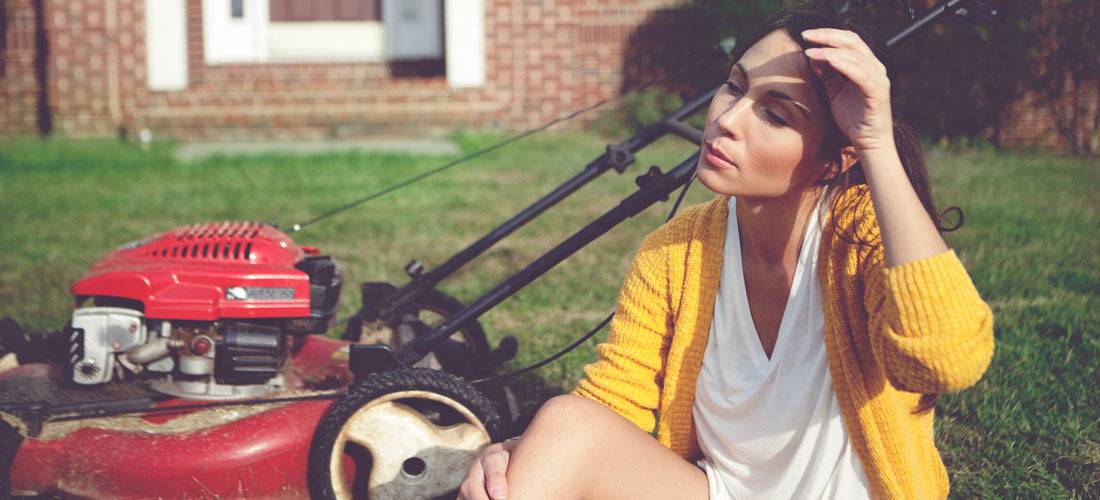 Choosing the right lawn mower is crucial to turning your lawn into a high-beauty paradise. Here are your options:
Push Mowers
If your lawn is less than 500 square feet, a manual reel mower is the perfect size to keep weeds at bay. You need to be quick and agile when operating its blades but its engine-less feature makes it easy to use plus it is low-maintenance and eco-friendly.
Walk-Behind Mowers
An all-time American favorite is the powered walk-behind mower. Proper care and maintenance will ensure it will cut miles of lawn and will service you for years. Most units are available in 20"-22" sizes so make sure that you have enough space in your shed door or yard gate to maneuver your mower through.
Different Types of Walk-Behind Mowers
Gas Type — Gas mowers offer more power than electric types and have longer runtime. On the other hand, it's messier and requires more maintenance.
Electric Type — Electric mowers can be corded or cordless. Corded models are more ideal if your lawn space is just small while cordless (battery-powered) units makes it easier to roam around as you like – although you run the risk of losing power more quickly.
Push or self-propelled — Self-propelled all-wheel drive units are heavy and more difficult to maneuver but they provide more assistance going up inclines or for larger yards. Compact push mowers, on the other hand, are perfect for cutting around flower beds or for small flat yards.
Cutting type — Walk-behind mowers come with different features when it comes to dealing with grass clippings: side discharge, mulching, and bagging. The first one distributes the clippings back onto the lawn; the second one breaks the clippings into very fine pieces before releasing back into the soil; the third one collects the clippings into a bag.
Riding Mowers
If you have miles and miles of lawn on end, riding mowers will give the best bang for your buck and won't have you spending the whole Saturday morning all sweaty and grassy smelling. Though it only provides the basics in comfort, riding mowers with its rear-mounted motor can do the job easier, faster and most effectively compared to a walk-behind mower.
Lawn tractors have more powerful engines, wider cutting decks and come with attachments such as aerators, spreaders or snow throwers. There are units which offer high back seats for best comfort, headlights for late evening sessions, and four-wheel steering for ultimate flexibility.
Zero-turn mowers are a popular breed among professional landscapers and golf course maintenance staff. Its precision turning, faster speeds, and powerful engines won't disappoint you if you have a lot of ground to cover. These are ideally suited for large flat lawns with large obstacles such as ponds or trees to mow around. Though the lap bar steering can be difficult for some to learn, once you start getting the hang of it, it allows you to rotate on your own axis, delivering a smooth ride and more precise grass cutting.
Before buying a mower, check the manufacturer's website for information or ask the retailer directly about its features. You want something that won't compromise performance and will give you excellent maneuverability and efficiency to ensure your lawn will receive the best TLC it deserves.
A great place to start your search is at Home Depot. Their website has lots of good mowers to look at and choose from.