A guide to adding a laundry/utility room to finish your home's basement
Finish your basement with a laundry/utility room and help keep your clothes from piling up in the communal areas of the home. When you complete a laundry or utility room, make sure to understand the need for a drain, a large sink or tub and a water-resistant floor.
Why Use the Basement?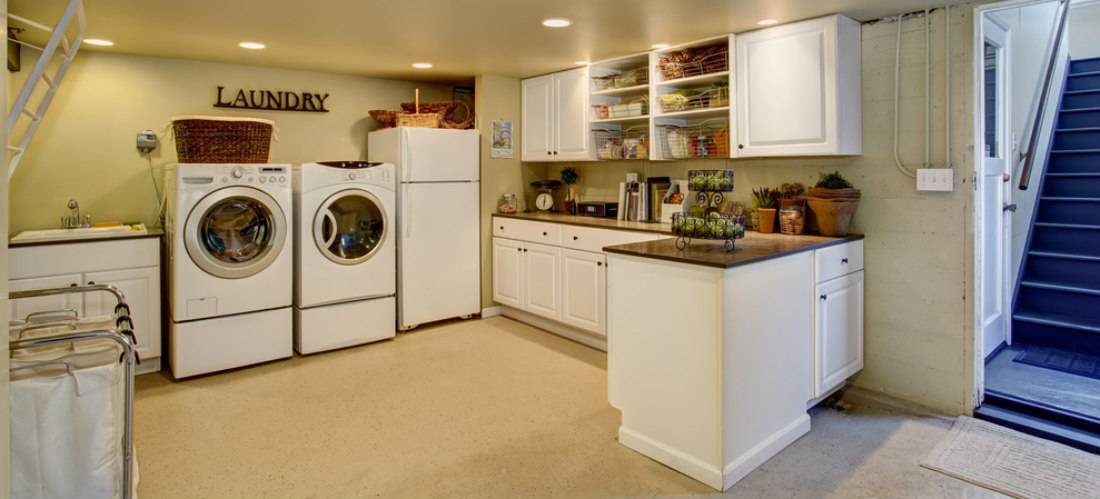 Laundry room in finished basement
The basement is an ideal location for a laundry room and utility rooms, since the hot water and cold water pipes are already there and normally exposed, it's isolated from the rest of the house and you'll be able to tap into the current drain system. If there are any overflow problems, you won't have to worry about the upstairs becoming water damaged by laundry rooms above the main floor, and most electrical appliances will be away from this area of the house.
Why Do I Need a Floor Drain?
A floor drain is a necessity because it protects your basement against the problems leaking or burst pipes can cause. Flooding will be near impossible as long as the drain is open and clear. The drain must be connected to the home draining system, so it will likely need to be installed by a plumber. Residential remodeling that involves taking up the floor or installing pipes will need to be completed by professionals in most cases.
Install a Sink
Installing a sink is a smart move in laundry or utility rooms. Some clothing will need to be washed by hand or may need to soak, or you may want to dye an item to restore its color. A sink should have hot and cold faucets and link to the drain system. This is another system that may be best installed in finished basements by a plumbing contractor to prevent leaks, spills or water damage.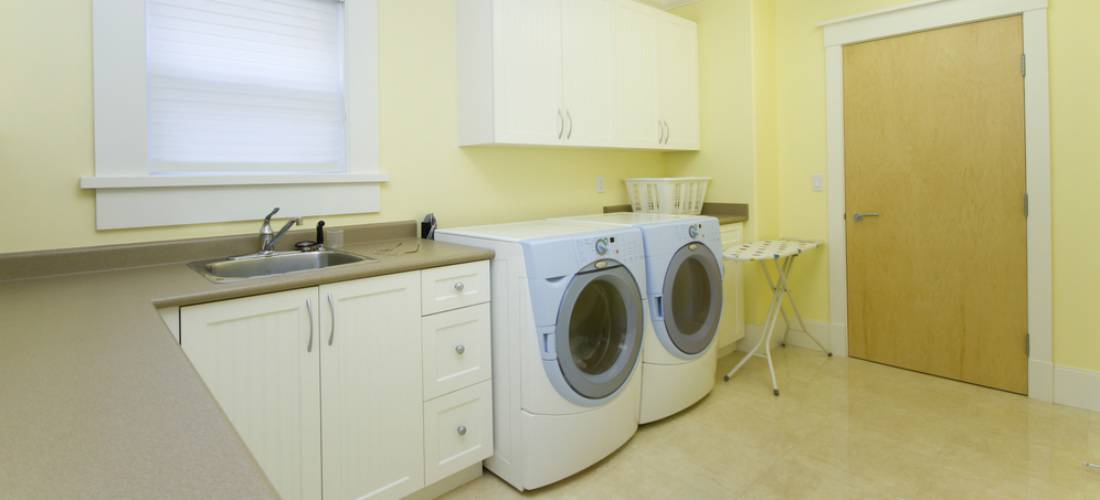 Protect Your Floors
Whenever you work with water, you'll want to make sure your floors are protected against damage after the residential renovations. If your floor is a concrete slab, simply paint it with a few coats of heavy-duty paint. You can also cover it with vinyl, which may be glued into place, if the concrete doesn't have any cracks. If your basement is finished and has carpeting or wood flooring, you might consider placing a large tub under the washer; this will catch any water that overflows, so you won't have to worry about ruined rugs or damaged hardwood.
Cost
A typical laundry/utility room update or renovation will cost between $1,700 and $2,000 for materials, or $2,600 to $3,100 for materials and labor. An average space will need cabinets, a countertop and sink, flooring, updated lighting and plumbing, as well as the washer and dryer you plan to use. Expect the price to be slightly higher if this is the first installation, since the contractor will need to create new drain and water lines to prevent flooding and other issues.
The laundry/utility room has an ideal location in the basement, since you can easily tap into the water pipes and drainage available. It's easy to have a finished basement with a laundry room, but you will need to install a sink and drain with the help of a contractor, which you can find using QualitySmith .