Cleaning the countertops can be a daunting task since it never seems to actually stay clean for more than five minutes– especially if you have a full house to feed day and night.
But it doesn't mean you can just close your eyes and wish that all the dirt and clutter will magically vanish away. If neglected, all those accidental spills and splatters from food preparation and cooking can result to stubborn stains and marks, or worse, considerable damage to your countertops.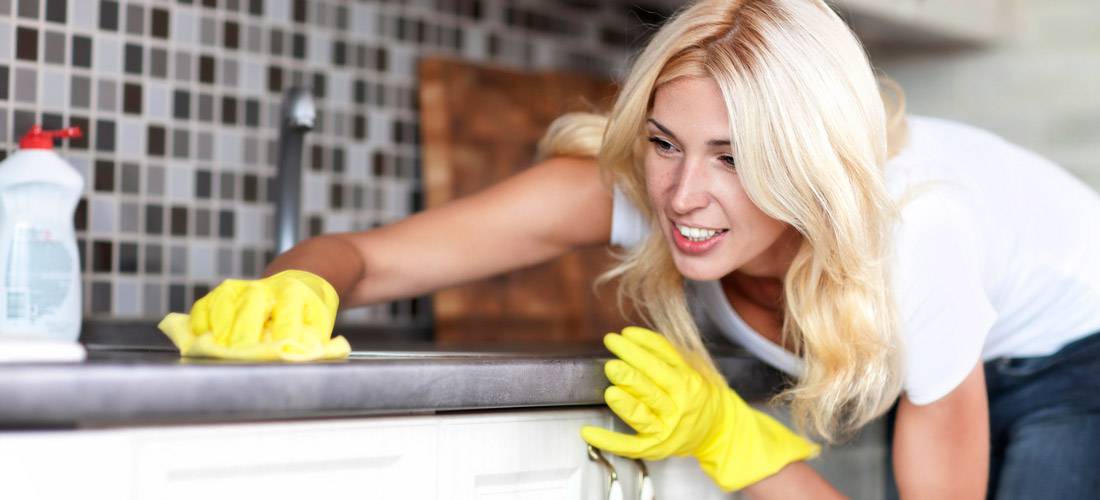 Forget weekend cleaning marathons — just a little TLC can keep your countertops in tiptop condition on a daily basis even if you have your hands full all the time. Here are five tips to consider.
1. Keep necessary items handy
Scan your countertops and determine which are kitchen-related and which aren't. The preciously small countertop real estate you have could sometimes be overcrowded with items that aren't meant to be there – and transfer them to cabinets, shelves, and on the walls, if possible.
Leave the items that you use frequently so you can gain more prep space and keep it cleaner quicker the easier way.
2. Don't ignore the basic daily care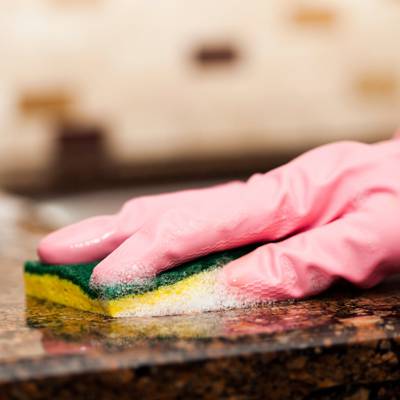 Always have a soft clean cloth handy because this is your first and simplest defense against dust and dirt threatening to etch on your beloved countertop surfaces. Wipe them away as soon as you see one because if they sit too long, it would be more difficult to remove, which will require more than just a simple wipe.
3. Know your maintenance requirements
Most countertops can get by with the same basic daily care, no matter what type they are. But other countertop surfaces require very specific instructions to keep them clean and long-lasting. For example, vinegar is awesome for cleaning laminated countertops but is an arch nemesis of marble countertops. Determining the type of your kitchen countertop will let you know what you should and shouldn't do to care for them.
4. Clean your kitchen stuff
Now that you've wiped your countertop clean, you should also pay attention to all the items on it – from the crockery that holds utensils to the toaster and coffee maker. Make sure that you remove all food particulates and other foreign items on these kitchen essentials – and even the bottoms – so that it won't fall off the countertop once you put them back in its proper positions.
5. Watch out for heat
Extreme changes in temperature can damage your countertop which can make it look old and dirty. Though stone countertops available in the market these days are resistant to heat damage, it would still be best to use trivets and potholders to protect your countertops from hot pots and pans.
Additional Tips and Tricks:
Even big messes can be cleaned thoroughly just by dry dusting and/or cleaning with water.

Undesirable odors can easily be removed by sprinkling baking soda on the affected area and then wiping it down with a clean damp sponge.

Use placemats when placing acidic items such as coffee, fruit juice, vinegar, tomato sauce, and such.

Cigarette burns should not be left unattended for too long. Lightly sand the surface and polish with any cleaning solution you have around.

Always be gentle when cleaning the surfaces by avoiding abrasive cleaners and plastic or steel scrubbers.
If you're looking at putting in new countertops, you might take a look this page for some details on the different types that are available.