Don't miss out. Learn about different kinds of generators, like home and portable generators, and the benefits of a generator for you and your family.
Home generators can be a godsend for homeowners when bad weather causes a power outage. Electric generator costs have really come down in recent years, making even whole-home generators widely available to a greater number of homeowners.
There are also portable home generators that are ideal for using for supplemental power whenever your home is knocked off the power grid. What type of home generator is best for you and your family?
Whole-home generators are also called standby generators. They essentially do just that: stand by. In the event of a power outage, this type of home generator automatically senses the loss of power and kicks itself on within a short period of time. You are left in the dark for only a few seconds.
Standby generators of this type are ideal for the family who wants to ensure that it never loses power. When your home is off the traditional power grid, you will still be able to power most things in your home, like your refrigerator and microwave. You can also power lights, water heaters and other things that you ordinarily don't miss until the power goes out.
A wired home generator allows you to power a greater number of items than a portable generator. Perhaps most importantly, if you have someone at home who depends on some type of medical equipment, then this type of home generator is a must-have.
For example, you might be dependent upon supplemental oxygen and therefore need to power an oxygen concentrator machine around the clock. If a power outage occurs, you don't need to worry about getting the oxygen that you need.
Once the generator is hard-wired into your home's electrical system, you are protected from outages with little maintenance.
By contrast, portable home generators are also valuable to own when it comes to unexpected power outages. This type of generator is ideal for those who are disheartened by electric generator costs and who cannot afford whole-home generators.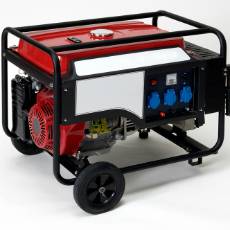 While a portable generator does not offer the ease of use of the whole-home generators on the market, it is a lot cheaper and fairly simple to use.
Portable generators have a few drawbacks that should be noted when determining which generator is right for you:
They're pretty loud.
They emit the noxious smell of the burned fuel.
They must be lugged in and out of storage with every power outage.
There is a cost tradeoff with this type of system. Whereas whole-home generators are priced in the thousands of dollars, basic portable generators can be purchased for just a few hundred dollars.
QualitySmith can help you find a professional, experienced installer  for your whole-home generators. Electric generator costs aside, home generators are a wonderful investment to ensure the comfort and functionality of your modern home.