Investing in a home security system means you are not alone as a single parent. Keep a close eye on your youngster from afar.
The decision to install residential alarm systems is one that can bring a single parent a tremendous amount of relief. In choosing to install a home security alarm, two elements are typically of the greatest concern for single parents: affordability and effectiveness.
Single Moms
The job of a single parent is a difficult one. On its own, parenting holds significant challenges. As the sole provider of protection for your family, you must consider any eventuality that could threaten the safety of your family and home. Being proactive can help you to overcome a situation that could pose harm to your family.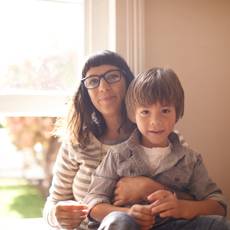 Today consumers can choose from a wide array of security system options. In choosing the best security system and package for your needs and budget, it is important to know that burglars typically enter homes through the front door. Other points of entry include first-floor windows, back door, basement doors and garage doors.
Home alarm monitoring systems offer several security devices to keep out intruders. In the event an intruder does find a way into your home, immediate assistance can be provided through a security system's monitoring service.
Systems are able to provide assistance with other types of emergencies too, such as medical emergencies and fires. If your child is old enough to be left alone, these extra features are a definite bonus for single parents.
Modern security systems typically offer a multi-layered security approach to ensure complete protection. Windows and doors can be armed with sensors that will notify a central control panel if those sensors are breached after the system has been set. Motion and heat detectors inside the home can also send signals to the control panel if movement is detected inside the home after the system has been set.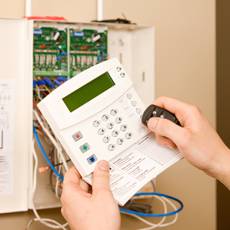 Both wireless and hardwired systems are available. The benefit of a wireless system is that there are no wires that can be severed. In addition, the system will remain operational even if your landline phone is not operational.
Surveillance cameras provide an additional layer of protection to your home security system. There are also many security companies that now offer the ability to monitor and control your home security system from your smartphone or tablet. So if you had video surveillance, you may be able to check in on your family while you are away.
The cost for a home security system can vary depending upon the package you choose. Basic packages are often available for an installation fee of about $100. Monitoring services vary based on the chosen package, but they often start at around $30 per month.
It is possible to install home security alarm systems on your own, which will save you the cost of installation. If you do not have experience in this area, allowing security equipment professionals to handle the installation may be a better option.
Home security systems for single parents can help lessen the stress in your life. System reviews can assist you in finding the right information you need to choose a home security system that is both reliable and affordable. Do it, feel safe today.