A home security system tips article covering home security services, comparing products from ADT and LifeShield, prices, DIY home security and more.
Home projects never end. Push home security to the top of your to-do list. Like any home project, you need to gain basic knowledge on home security system tips, products and prices.
You can purchase home security systems from professional companies with loads of experience, or you can take the do-it-yourself route. In either case, first ask yourself why you need one:
Is the home security system for general assurance?
Did you have a break in before, or were there a series of neighborhood break-ins?
Or do you want a way to keep an eye on your family or home when you travel?
Figuring out why you need one helps determine the best system for your home and lifestyle. For example, if you're interested in a home security system because of previous break-ins, then you probably noticed an entry pattern.
Next, assess the interior and exterior of your home.
Don't make mental notes. Instead keep a working list of what you notice as being easy to access entry points, potential problem areas or personal concerns.
For instance, perhaps you're aware of a basement window that an intruder would find attractive. In fact, maybe your home's weakness is an entry you consider entering when you lock yourself out.
You need to really work at your list. You'll more than likely miss something if you try to do it all in one time frame. It's best to break it up and talk to a family member or close neighbor to see what they think. The list will also keep you on track of asking the right questions if you speak to a professional installer or contractor.
The best way to start is to walk through each room, double check the durability of the room, and note problem entries. You'll not only want to pin-point high traffic areas inside and out, but also say entries that are easy to access via a street or say a gap in your back fence.
Take a tour of the exterior both during the day and as the sun is setting. Doing so gives you a new way of viewing your home. Look for dark nooks or areas where you or your neighbors wouldn't notice someone up to no good, like the sides of a garage.
DIY home security tips
Some basic DIY home security tips at this stage include:
Adjust any outdoor lighting that may be dead
Replace weak doors, which are generally side entries or garage entries.
Fix or replace beat up or old locks, whether window or door. For doors, consider updating your strike plate to one that is more solid.
Install deadbolts.
Now that your list is set, take a look at home security packages from the top security brands. Some top brands include ADT and LifeShield.
A smart way to go about it is to purchase a home security product package or kit, whether through a home security company or a DIY kit from a home department store. Some home kits are basic, others more high-tech. It all depends on your needs and lifestyle.
Regardless, you can always add-on a home security product or part down the road.
ADT home security systems
ADT is one of the most recognized brands in the home security industry with just about 140 years under their belt. You've seen their window decals and lawn signs before for sure. They're based out of Boca Raton, Fla., yet ADT services both the United States and Canada.
With fair prices and a range of products, you would be satisfied with ADT. Here are just a few of their costs and features:
As low as $36 a month, with an installation fee of up to around $550 (note that prices may vary greatly based on region).
All packages include a control panel with an easy to use touchpad.
And all their kits have an indoor sounder, i.e., the annoying, loud beep of an alarm.
You choose between a wireless or hard-wired network for the window and door sensor, plus the motion detector.
Unless it is really out of your budget, always go with a wireless network. You'll never have to worry about someone cutting your security wires or similar. You do want to ensure you use a secure password or code for your home wireless security system.
Other top-notch offers from ADT:
Fire and monoxide sensors.
Video surveillance available for you to watch at home or on the go with your smartphone.
ADT Pulse allows you to monitor not only home security, but also heating and lighting from your smartphone, laptop or tablet.
LifeShield home security systems
LifeShield is another home security service provider. They're just as trusted as ADT, yet with the bonus of being roughly half the price.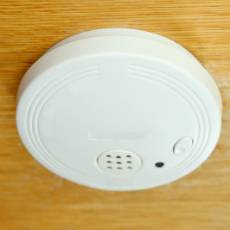 Dependent on your location, you can expect to spend anywhere between $30 and $45 for the monthly service. If you don't do it yourself, then this does not include installation fees. LifeShield does not have an activation fee. They do offer free equipment.
LifeShield is a younger company, born in 2004 by an engineer. They feature all the same high-tech home security packages as ADT. Where they stand out, though, is with their kits tailored for specific lifestyles.
For instance, if you're a pet lover, LifeShield has a kit for you. Similarly they have specialized features for seniors and military families.
Here are some additional home security products and features from LifeShield:
Utilize broadband Internet or cell for monitoring, giving you complete wireless, remote access.
Wireless video monitoring and home security cameras.
Sync monitoring with your Kindle tablet device.
Fire and monoxide sensors.
Environmental sensors that alert you of say flooding or similar.
A kit for renters, which most home security providers do not have.
A do-it-yourself alarm system.
Now, not all of LifeShield's home security systems include the above, but the list does give you an idea of what is possible.
You can install LifeShield's alarm system yourself within an hour. Or if you purchase a DIY home security kit from a store, you can also follow the kit instructions and install the system.
In either case, home security service providers can answer any question you have and take care of installation for you. Now is the time to upgrade your home and purchase a home security system. Click here to receive free installation estimates from quality contractors now.