When it comes down to aluminum roofing vs natural slate roofing, the former costs less. Learn more.
Extended choices in residential roofing materials not only allow homeowners to pick the precise look that they want in a roof, but also enable them to do so without having to sacrifice the protection that they need. A direct comparison of materials, such as that between aluminum roofing vs. natural slate roofing and roofing estimates, can go a long way toward ensuring that the homeowner makes a knowledgeable decision.
Aluminum roofing
Metal roofing is a traditional material that has been used in both industrial and residential settings. The material is highly durable, offering adequate protection from snow or rain, with aluminum roof panels lasting for up to 50 years.
The aluminum panels are available in a variety of styles to match the homeowner's desired look. These styles can range from seamed panels that allow dirt and water to slide down the grooves in the panels and off the roof to panels that are manufactured in the shape of shingles or roof tiles. Aluminum is highly moldable, so it can even be made to mimic the look of wood shake or slate tiles.
Aluminum roofing is easy to install. The material is lightweight, allowing roofers to lay it in place quickly and secure it using lightweight nails or screws. Unlike heavier steel panels, aluminum does not require that the roof's structure be redesigned to hold its weight. It can also be installed over older roofing material such as asphalt shingles, utilizing the shingles as additional underlayment. This can save the homeowner some money by not requiring installers to tear older coverings away before installation.
Aluminum roofing is also highly energy efficient, absorbing less heat to easily make your home cooler during the summer months. When it comes time to remove the panels, the metal can be easily recycled. Many panels are created from recycled aluminum in the first place.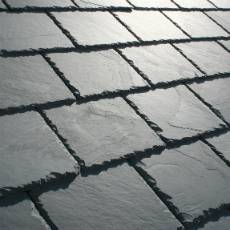 Natural slate roofing
Natural slate roofing is a traditional roofing material that has been in use since the 13th century. Used primarily for its durability, a natural slate roof can be installed and left in place with little need for roof repair for up to 100 years. Slate roofs have even been known to last up to 150 or 200 years, depending on the particular stone used.
Since the material has such high durability, its considered to be environmentally friendly, requiring little wastage from multiple replacements, as with asphalt or even long-lasting composite roofing.
Natural slate roofing can be expensive when compared to most other roofing materials. Depending on the stones, the roofing cost can range from $10 per square foot to as high as $75 per square foot. The results can be breathtaking, though, raising the value of your home significantly. A synthetic or composite roof can provide the same look as slate, however, without the cost of the natural slate material.
To ensure your roofing is best installed, it's a good idea to consult a professional roofer, who is also likely to provide the correct roofing prices. Such professional may be found using the listings available at Reply! online. Choosing between aluminum roofing vs. natural slate roofing is mostly a matter of aesthetics.