A hip and ridge asphalt shingle comparison guide: Owens Corning vs CertainTeed
Replacing your existing shingles can help improve the overall look of your home. There are many different types of roofing shingles on the market, so you may want to research some of the choices available to you. An Owens Corning vs. CertainTeed hip and ridge shingles comparison is a great way to start your research.
Owens Corning hip and ridge shingles
Owens Corning is an industry leader with a reputation for manufacturing environmentally friendly products. You can choose from several different types of hip and ridge shingles from the Owens Corning's shingle lines, including:
Owens Corning hip and ridge shingles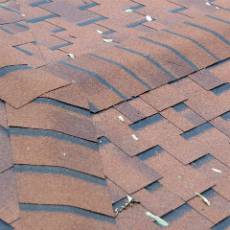 ProEdge
ProEdge Storm with extreme weather protection
Berkshire
DecoRidge
High Ridge with algae protection
The hip and ridge shingles sold by Owens Corning come in a variety of colors to complement the look of your residential roofing project. You will want to make sure that the color you choose works with the color of your other shingles.
The standard roofing warranty for Owens Corning shingles covers algae resistance and wind resistance. You can get extended warranty coverage on any shingle products by using an Owens Corning preferred or platinum preferred roofing contractor. Before starting your project, be sure to check whether your roofing professional is certified by Owens Corning to install asphalt roofing shingles in your area.
CertainTeed hip and ridge shingles
CertainTeed is a trusted industry leader in residential roofing materials. The Shadow Ridge line of shingles is this company's premier line of hip and ridge shingles. Shadow Ridge shingles come with the following features:
CertainTeed hip and ridge shingles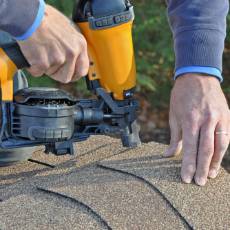 Water-resistant asphalt construction
Fiberglass mat base
Pre-folded pieces
UL 790 Class A fire resistance rating
UL 997 wind resistance rating
Limited manufacturer warranty
Shadow Ridge hip and ridge shingles come in over 50 different colors to match your existing roofing shingles. However, some colors are not available in some areas of the United States.
Both Owens Corning and CertainTeed manufacture quality roofing products at affordable prices. Asphalt shingle prices depend on how much material you need to cover your roof. Your roofing contractor should be able to include the materials portion of your roofing cost in your roofing warranty.
Hip and ridge shingles are designed to cover the ridges and angles of your roof. You will need to purchase a separate type of shingle to cover the rest of your roof. Many homeowners choose the 3-tab shingles for this, though there are some other choices on the market as well.
Shopping for new roofing materials can seem overwhelming at first. Replacing a roof involves many components, and you will want to make sure that you choose quality products for each step of your project. Learning about different products on the market is helpful to ensure that you find the ones that best fit your needs. Conducting an Owens Corning vs. CertainTeed hip and ridge shingles comparison is one way to begin this research. QualitySmith also offers plenty of resources about customer reviews and company information that can help you make the right decision.