Most parents will agree that their children need a comfortable and fun living space where they can thrive, learn and play. Here are some great kid's room ideas.
A kid's room can have the first and the biggest impact on his or her growth and development, not to mention creativity and great memories to treasure.
Designing your kid's room does not always have to be about making a grand impression on your beloved offspring. Plus, it definitely has to be within your realistic budget allocation.
But just in case, you want to spoil your child and make his or her bedroom a showcase of your most extravagant parental love and care, here are top five design ideas you can consider.
1. Pirate Ship Room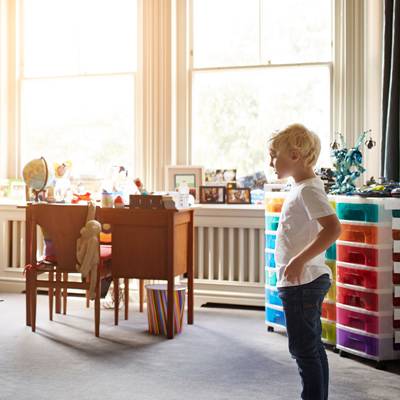 All aboard, matey! For your son's imaginary pirate world to become a reality, a lofted fort bed would surely earn the biggest ooohs and aaahs but why stop there?
Just so you won't have to break the bank for recreating a life-sized room where buried treasures and ocean exploration can be done, get ship-worthy accessories at garage sales and on Craigslist. Surely, your kid will understand if you have to use twigs for swords and pennies for treasure after all your decorating efforts.
2. Secret Chronicles Of Narnia Room
Make your daughter feel like Queen Lucy by creating a wonderful secret Narnia-themed play room within a wooden wardrobe or armoire.
You can simply paint the wall with characters or scenes from the book/movie in the kid's room. Or, if you're too busy (lazy) to do it, browse through online stores for available wall decals or stickers with the theme from The Chronicles of Narnia: The Lion, the Witch and the Wardrobe. This company is a great example of sources for decals.
3. Tree House Bedroom
What could possibly be cooler than living in a tree house? Having your own warm and comfy tree house bed, that is!
The classic kid's room never goes out of style simply because of heartwarming memories associated with it, plus it does feel magical especially when it comes with a climbing rope as well as a ladder. Throw in some faux trees and a swing to round up the whole design. And don't forget to add in spaces below – perfect for housing sleepover guests!
4. Safari-Themed Bedroom
You can paint green grass on the bottom and a blue sky on the top then use jungle stickers for decoration. Or, put up some jungle wallpaper then sketch some palm trees bushes with a lion peeking out the grass at the bottom part of the wall and clouds at the top.
5. Fairy Tale Bedroom
For young girls, choose happy fairy-tale pop of colors such as princess pink and royal purple. For older girls, you can opt to paint an accent wall instead of the whole room dark paint colors such as jet black or blood red for a cheeky sense of malice.
Put some tulle-covered canopy over the bed then incorporate gold accents and hardware on white furniture. Add whimsical touch through wood stumps used as side tables. A bedroom, either for a young or an older girl, wouldn't be complete without a magic mirror. Sheers in pastel pinks and creamy whites layered with cotton or linen curtains in darker shades will not only serve as gorgeous window treatments but will also complete the fairy-tale look.