After months of convincing yourself to redecorate and redesign your bathroom you are ready. But throwing away $20,000 on a super deluxe spa is far from what you can spend. Make your bathroom remodel effective and inexpensive.
There are plenty of cost-cutting ways for your bathroom remodel to turn your bath into a relaxing, rejuvenating space.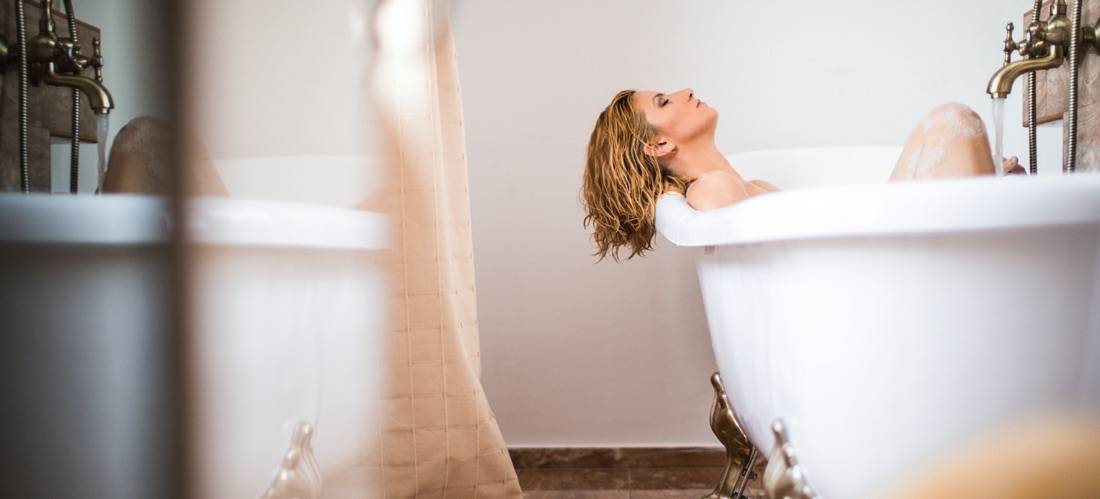 According to some home and lifestyle magazines, an average bathroom remodelmight costs around $10,000 while a full scale bathroom remodel can go up as much as $25,000. However, your creativity and resourcefulness could help make your dream bathroom comes to life.
While it is true that updating a bathroom is a home improvement project which adds value, it doesn't mean that you have to fritter away your entire life savings.
So how can you make it possible with a little money and lots much effort? Here are some ideas that could push your creativity to the fullest.
1. Make your own wallpaper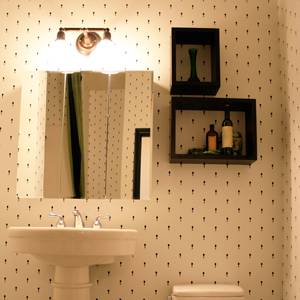 You don't need to buy those expensive wallpapers with fancy designs. You'll gonna replace them anyway after five years or even less.
Instead, look for a vintage book and make your own wall covering out of it. Apply wallpaper paste at the back pages and adhere to your old wall. Make sure that the wall is free from dust then seal the surface with clear top coat.
A universal wall covering adhesive costs from $10 to $25 depending on brand which usually covers up to 4-5 rolls of wallpaper or around 280 square feet per gallon. A quart of water-based top coat with a hard crystal clear finish costs around $17.
2. Use pebbles and garden stones
Remember those pebbles in your old aquarium? You can use them as accent decoration at the bottom of your bathroom fixture. Carefully remove the tiles below your hanging vanity counter cabinet or vanity stand. Make sure not to damage other tiles that you don't plan to remove. Then place pebbles or garden stones.
It will give you a tropical feel. You can also put LED strip lights under the vanity cabinet to lit and give emphasis on the pebbles.
It is ideal to use larger stones which are easier to take off if you need to wash and clean them. Stones with 1/2-1 inch diameter costs $22.50 per 22 lb., while an 18 feet LED Tape Light costs $12.
3. Clean and re-seal caulk and grout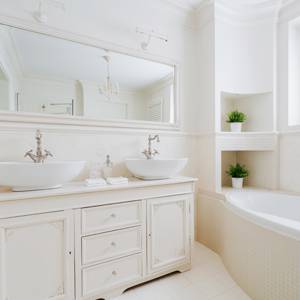 This is normally overlooked and ignored. But one of the important details in a bathroom is grout and caulk. A grimy waterproof sealant, filler or tile grout are unsightly. Regrouting your tiles is a quick and simple to do your bathroom remodel.
Clean and re-apply grout on your floor and wall tiles. Add straight, clean lines of caulk around the tub and sink. A few dollars could make a huge difference and could brighten up the bathroom.
4. Frame Instagram photos
Add life to a boring plain painted wall. Choose your most memorable portraiture or landscape photographs in your Instagram account, print it in a 4 inches by 4 inches photo paper and choose a nice, simple frame that will suit the bathroom wall.
It is time to put on display some buried memories of your great trip or an experience in your digital folder. Color in choosing a frame must be considered, a mix and match can make the frames pop.
Hanging framed pictures gives a homier feel of the surrounding and could even cheer you up on a bad day. Do your bathroom remodel with your worst and best days in mind.
5. Position your books and magazines beside the toilet
Another cheap way to decorate your bathroom is bringing your reading materials and putting them beside the toilet. It will not just give a new look but will also encourage you to do more reading while sitting on a toilet bowl.
A stand alone magazine metal rack costs around $12 while a newspaper and magazine rack with hook which you can put over the water closet tank costs $10.
6. Update your light fixtures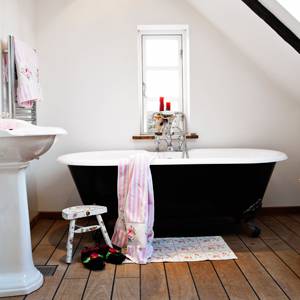 Replacing your old bathroom light fixtures could give a huge transformation. It is the part that makes or breaks a bathroom and can really help uplift or diminish your design scheme. Bright and shinier fixture improves the mood of the room
Light the vanity area evenly, you have to see clearly what you are doing when applying make-ip or shaving. In your shower area, only use fixtures that are rated for use in wet locations. The bulbs and all electrical components should be totally enclosed.
Updating light fixtures is an ultimate inexpensive upgrade that could cost around $50 or higher depending on materials.
7. Set the ambience with candles
You might not need a major renovation by replacing you tub or water closet just to have a different bathroom experience. Lighting a candle infuses a romantic and relaxing ambiance to the room. Surround the tub with as many soothing candles as you desire.
Scented candles neutralize unpleasant odor but heavy scents can be overpowering, especially in tight spaces.
For your walls, you can use faux candles. We don't want any fire accident in your home especially in bathroom which is frequented by children. There is a wide variety of scented faux candles with no flickering flames and an alternative kid-friendly option.
A battery-powered LED faux candle which you could mount on your wall costs $7 to $10.
Affordable, reinvented bathroom
Giving yourself a treat by creating a fresh, new look to your bathrooms needs not to be pricey. It is all about making the right choices that won't cost you an arm or a leg. Creativity and resourcefulness with a clever plan and putting in the effort yourself can provide you an attractive and dated bathroom.
Aside from all of our listed suggestions, don't forget to accessorize. Replace your old towels, curtains and rags, and of course, clean all spaces regularly.
Here are some extraordinary decorating ideas for your bathroom.